Background
W7AC and Galerie Myrtis Presents Artist's Writing Workshop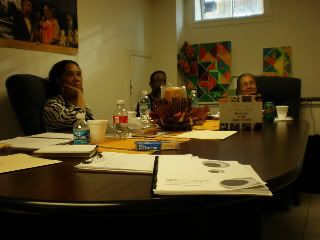 Have you failed to respond to Calls for Artists or apply for grants and internships because you don't have a well written artist's statement, biography and resume? If the answer is yes, then this workshop is for you.
You will be guided through a 12 step process for creating the artist's statement, biography and resume which expresses your best artistic self.
Learn 3 key elements:
1. Content of each document
2. Purpose each document serves
3. How to write artistically and creatively about your work.
Date:
This is a two day workshop. Sunday, November 9, 2008 2:00pm-5:00pm and Tuesday, November 11, 2008 2:00pm-5:00pm
Cost for Non-Members:
$150
Cost for W7AC Members:
$75
Refreshments will be served!!!
To register please call us at (202) 399-1997 or e-mail us at
ward7artscollab@yahoo.com
For more information on Galerie Myrtis please visit
GalerieMyrtis.com
---
Donec sodales consectetuer nunc. Aenean nec augue. Curabitur commodo, felis at tristique venenatis, nunc pede luctus risus, quis eleifend tellus mauris eu nisl. Vivamus varius dictum tellus. Nam ornare sem ornare justo. Praesent eget magna ut erat ullamcorper adipiscing. Suspendisse potenti. Donec lorem. Sed in velit. Maecenas molestie pharetra lacus. Donec in velit. In metus tortor, elementum in, porta vitae, posuere eu, purus. Quisque quis est. Nunc odio nibh, aliquam eget, ultrices quis, dignissim sit amet, augue. Mauris vitae turpis eget ligula porttitor nonummy. Etiam pulvinar bibendum tellus. Nam nulla nisl, elementum nec, posuere eget, dignissim vel, dolor.